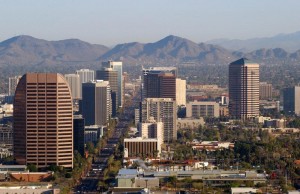 Metro Phoenix's commercial-real-estate market, once battered like the region's housing sector during the crash, is on the rebound and rapidly gaining popularity with big investors again.
In the latest "Emerging Trends in Real Estate" report, considered one of the real-estate industry's most influential surveys, Phoenix moved up eight spots from last year, to rank No. 25, in a list of the best places in the U.S. for investors to put their money.
The Valley's employment and population growth, as well as a relatively low cost of doing business, helped the area improve its position with small and large investment funds.
Phoenix's population is projected to grow 2.6 percent in 2014, according to the report's publishers, PwC and the Urban Land Institute.
That figure is higher than local estimates.
Read more...
Commercial real estate set to heat up in Phoenix area